The cottage possessed two original beautiful features:  stone fireplaces and rustic timber-beamed ceilings.  These are sources of rich texture that we would not have been able to afford to put in.  But we had the opportunity to add more texture when practically all the drywall in the house had to be removed.  Friend Holly had just finished her living room in horizontal tongue-and-groove paneling, which was so beautiful that I was inspired to add the same kind of texture at the cottage.
When Kenny, our contractor, heard that I planned to use the tongue-and-groove, well, he was just as happy as a clam.  He immediately sang the praises of the material and how easy it was to put up and stain and it just added so much warmth and cabiny goodness to the house, falalalalalala.  Whoa, Kenny, you manly-man!  You aren't staining the stuff–you're painting it, Bubba!  That's right, priming it and, at the very least, painting two coats of paint.  Then he didn't talk to me for three weeks.  Yes, Kenny is a pouter.  I'm exaggerating, of course!  Kenny and the Bubbas (their name for each other) were troopers and only grumbled a little bit about it.  Lucky for them, I did not choose to put it in every room.  Only select rooms received the texture boost from tongue-and-groove paneling.
In the master bathroom, we did vertical tongue-and-groove paneling wainscot in a custom-blended color from Sherwin Williams.  I had a little chuckle to myself one day when I saw written on top of the gallon of paint "Wayne's coat."  Really, I thought Wayne's coat was blue, not tan.  Oh, no, his windbreaker is blue.  You're right, his coat is tan–just like the wainscot.
We took a break from the white trim elsewhere in the house and painted all the trim and doors in the master bathroom and bedroom in this tan color.
~~~~~~~~
We did horizontal paneling in the bunkroom.  Since this is the children's room, I figured wood paneling could take a beating better than drywall.  We contrasted with the painted tongue-and-groove by using a dark stain on the bunkbeds.  Kenny was happy about this.  Paint on the bunks would have shown more wear and tear, and I don't want to lug around my touch-up paint all the time.
Drywall just would not have given this room the fun camp atmosphere it has with the paneling.
~~~~~~~~
The TV room received the same wainscot paneling treatment as the bathroom but with horizontal installation.  The dark paint, Underseas (#6214) by Sherwin Williams, gives the room that perfect man-cave feel for watching TV.
~~~~~~~~
If you don't want to do a whole room in tongue-and-groove paneling, you could do a focal point wall.  We paneled only one wall in the living room.  I love the extra coziness the texture adds to the space.
~~~~~~~~
There are two more days left of Best of the Cottage–how much more can I exploit, right?  Thank you so much for reading and commenting.  I hope you come back!
~~~~~~~~
In other news, today TPH is featured on Full House, written by the lovely Christina.  This is her reposed on a summer's day, crowned with one her whimsical hair creations.  She sells them.  I know, I know, she is gorgeous!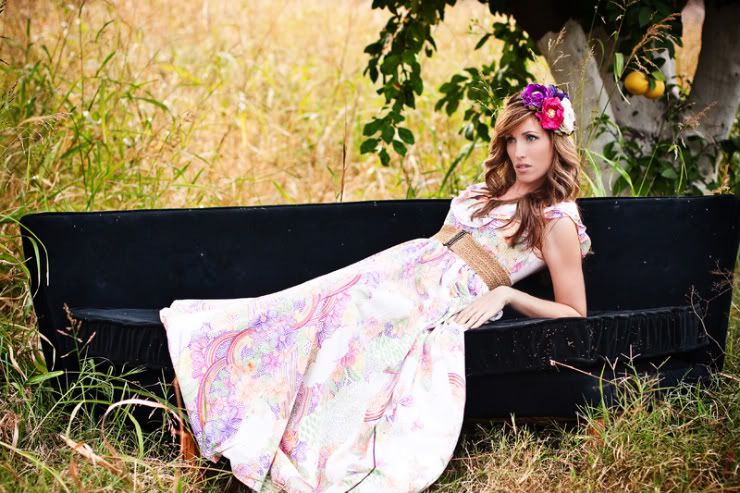 Would you believe it if I told you that she is the mother of twin girls and triplet boys?  All under the age of younger than young?  Hence the name Full House.  Check out her blog–it is one of my favorite places to be inspired.  She has a keen eye for plucking relevant images and her own home is so chic.  Thank you, Christina, for the mention!
~~~~~~~~
There is more Best of the Cottage:
For the complete before and afters of the cottage renovation, type cottage tour in the search box on the right.